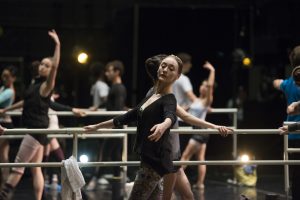 Ballet Classes in San Antonio by The Jewel of Art Dance Studio is at the heart of the ballet scene here in our local area. Their graceful and artistic productions at the Tobin Center offer our community the opportunity to experience something truly beautiful. But every professional ballet dancer had to start somewhere, and many of the floating ballerinas you see on stage started in a simple San Antonio Ballet Class like those offered at The Jewel of Art Dance Studio.
Nestled in the Monticello historical district, The Jewel of Art Dance Studio offers a variety of ballet classes in our unique studio, located in the strikingly beautiful Parkmoor building. This spectacular building has been fully restored to its 1920s splendor and allows us to offer dance classes in a one of a kind studio.
As a dance studio, our stated mission is "to create an atmosphere where even the most inexperienced of dancers are able to polish their technique." We believe that anyone who has a passion for dancing can shine like a beautiful jewel, and that it's our calling to help polish diamonds in the rough.
Ballet Classes in San Antonio
Jewel of Art Dance Studio offers ballet classes for adults and children in San Antonio. Let's take a brief look at the ballet classes we offer.
At Jewel of Art, we want to help you shine. In order to do that, our San Antonio ballet classes have been carefully crafted to help you progress in your abilities from beginner to ballerina. If you have questions about any classes that we offer, we invite you to contact us directly.