The Jewel Of Art Dance Studio
Important Information Regarding COVID-19
As many of you are already aware, the global spread of the Covid-19 virus is happening quicker than anyone ever anticipated. We appreciate your patience as we assess how to best navigate this health crisis and its effect on our local community, especially within our Jewel Dance family. Our goal is to create a quality alternative that can continue to provide dance training for your children. Please know that your safety is our biggest concern while we follow all mandated protocol, restrictions, and regulations.
Classes –
We will be using Zoom App as a  digital program to be used for the online video training. Below is the link to be able to log in.
https://zoom.us/j/3899668982
  For those interested, we will still be offering private classes as well for those that may want 1-on-1 training.
Feel free to contact us to schedule any privates, or for any questions or concerns you may have.
We appreciate everyone's cooperation with this and know we are doing everything we can to ensure everyone's safety and health.  As we know rules and regulations have been changing daily or weekly. Thank you for staying with us through this difficult time and we cant wait to get back to work!
We will get through this! Let's Keep the Arts Alive!
Winter Spectacular
Sun Dec 6 @3pm Tobin Center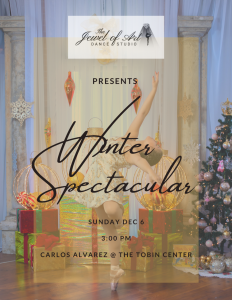 TICKET INFO‼️🎟🎟🎟
Great news we finally have information regarding ticket sales. Below is all the necessary info for tickets.
Tickets will go on sale on Monday November 16 @10am through the Tobin Center website or in person at the box office. Please visit http://tobincenter.org for purchasing online.
$30 per Ticket for a 6 person VIP table located towards the front of the stage.
$20 General Admission
Each Student will be given 1 complimentary ticket.
Due to the limited occupancy the Tobin has enforced for social distancing each family will only be able to purchase an additional 1-2 tickets per student.
Please be mindful of the limited number of tickets being. purchased to ensure every family is able to enjoy their dancers performance.
Thank you again for your patience and understanding as we want to put on a brilliant show for our Entire Jewel family 💎
A Jewel is considered to be a precious stone with brilliance and value.
The Jewel of Art Dance Studio is the stepping stone to producing refined and brilliant dancers. The Jewel of Art is committed to creating a strong foundation in all genres of dance. We are dedicated to developing well rounded and exceptional dancers. Our Main Focus is to have our Dancers Shine on and off Stage. We Specialize in the Highest Performance Quality and expect our dancers to perform with Brilliance.
We challenge our students to achieve excellence, and expect each one to embody discipline, confidence, commitment, dedication, artistry and passion. The students are considered our jewels at The Jewel of Art Dance Studio and just like jewels shine with brilliance, so will our students.
Learn A New Style of Dance
Browse our classes below. If one catches your attention, please contact us for more information or to register.
Our Blog
We post everything from studio announcements to student and studio achievements, as well as interesting reads from around the web and our community. Check back regularly for news and studio information.