The Jewel Of Art Dance Studio
Summer Break
Studio Closed for Summer Break June 14th- June 20th!
Important Information Regarding COVID-19
As many of you are already aware, the global spread of the Covid-19 virus is happening quicker than anyone ever anticipated. We appreciate your patience as we assess how to best navigate this health crisis and its effect on our local community, especially within our Jewel Dance family. Our goal is to create a quality alternative that can continue to provide dance training for your children. Please know that your safety is our biggest concern while we follow all mandated protocol, restrictions, and regulations.
Classes –
We will be using Zoom App as a  digital program to be used for the online video training. Below is the link to be able to log in.
https://zoom.us/j/3899668982
Kids Summer Camps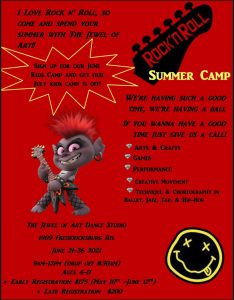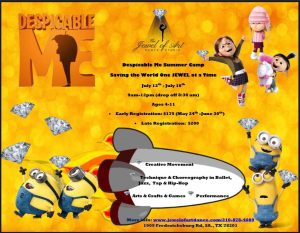 Trying to Figure out what to do with your little one this Summer??! Wait no further the Jewel of Art has exactly what you need to ensure your child has a FUN and Enjoyable one! We will be offering our Rock N Roll Camp June 21-26 9am-12p for ages 4-11. Pre register NOW until June 12th.
                                                BONUS DEAL!!!!
Register for our Second Camp "Despicable Me" in July and receive 1/2 off tuition! Such an incredible deal for these INCREDIBLE camps! Register today! call 210-878-4089 to register or for more information. Or come in person 1909 Fredericksburg Rd to register!
                     Teen Summer Intensive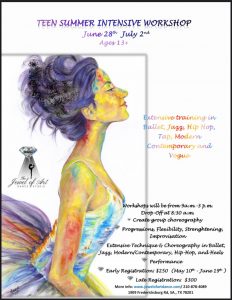 Wanting your dancer to enhance their technique and performance level? Look no further! The Jewel of Art has the perfect Intensive for your dance to be pushed to the next level. This intensive includes strengthening technique, flexibility, endurance, strength, creative skills, and overall performance quality. We will be bringing in master teachers and choreographers to work with these dancers in ballet, jazz, contemporary, hip hop and Vogue. Pre register now until June 19th. $250 Early registration. For more info call 210-878-4089 or in person 1909 Fredericksburg Rd.
A Jewel is considered to be a precious stone with brilliance and value.
The Jewel of Art Dance Studio is the stepping stone to producing refined and brilliant dancers. The Jewel of Art is committed to creating a strong foundation in all genres of dance. We are dedicated to developing well rounded and exceptional dancers. Our Main Focus is to have our Dancers Shine on and off Stage. We Specialize in the Highest Performance Quality and expect our dancers to perform with Brilliance.
We challenge our students to achieve excellence, and expect each one to embody discipline, confidence, commitment, dedication, artistry and passion. The students are considered our jewels at The Jewel of Art Dance Studio and just like jewels shine with brilliance, so will our students.
Learn A New Style of Dance
Browse our classes below. If one catches your attention, please contact us for more information or to register.
Our Blog
We post everything from studio announcements to student and studio achievements, as well as interesting reads from around the web and our community. Check back regularly for news and studio information.