Jackleen Rios
Studio Director
Jackleen Rios began her dance career at the age of four, learning traditional ballet technique from a well known dance studio in San Antonio called the Vladimir Marek Ballet Studio. She continued dancing throughout her adolescence growing in the art of dance learning other genres such as jazz, hip hop, and modern. She continued with her dance career by attending the University of North Texas in Denton Tx, where she graduated with a Bachelor's of Arts in Dance Cume Laude. After receiving her BA in dance, she completed her Dance Certification for 8-12th grade to begin her journey in dance education. In 2015, Jackleen graduated from The University of Texas San Antonio with a Master of Science in Health and Kinesiology.
She also taught for the Parks and Recreation of San Antonio, displaying her choreography on the San Antonio's famous Arneson theater and has been recognized for outstanding choreography. In 2010, she became the Dance Director for San Antonio Independent School District's Young Women's Leadership Academy. Jackleen started the dance program at YWLA. Some of her students started with little or no experience, and have become elite dancers, who have branched out into the dance world to be successful individuals. Her students have been in numerous opportunities throughout San Antonio, such as appearing on television shows, hip hop organizations, local music videos, and dancers for local singing artists.
The program has also participated in local events including the Battle of Flowers parade in 2011, 2012, 2014 and 2016. In 2015, The Young Women's Leadership Academy was asked to perform for the Department of Education in Fine Arts in Washington D.C. Jackleen's choreography was recognized by the Department of Education in Fine Arts' as one of the best programs in San Antonio. Jackleen is also a member of The Texas Dance Educators Association and The Center for Education in Developing Fine Arts since 2010.
With more than 12 years of professional experience to her credit, Ms. Rios has excelled as a director and the owner of the Jewel of Art Dance Studio since 2016.
Ms. Rios is not only a business owner but also a professional dancer, choreographer, model and actress. She has worked with many local vocal artists as a choreographer, director, dancer and model. She has worked with artists such as pop artist Simply Rayne, Sarah Centeno, R&B singer Smoove, Latin Colombian Artist J Torres, American Idol contestant Steven Curd, Ugena, Stacy Nevaeh, Stonetribe Music and local band Horror on 24. She has modeled for companies such as Melrose Family Fashion, Our Kids Magazine and featured as a Woman in Business for SA Monthly Magazine. She has also appeared on local TV stations such as FOX 29, Kens5, KABB, and WOAI. Walked in SA Fashion week for Fashion Artist of the Year Fabian Diaz and nominee Priscilla Martinez for Fashion Artist of the Year 2017, 2018, 2019. Additionally walked the Runway for Beauty Fashion Week, Alani Taylor Fashion Show, Ever After Fashion Show, Runway for Raw Hollywood, Austin and SA. Additionally, she has been the lead actress for the short film Overlooked produced by Rudy Luna and Brent Strong. Jackleen has also creative directed and produced music videos for local Artists such as Ugena, Stacy Neavaeh, DJ Lil X and many more. Jackleen has recently became the Dancer of the Month Executive Account Curator for SA Monthly Magazine. Showcasing the most Brilliant Dancers in SA to be featured in the hottest magazine in SA. Jackleen has also danced alongside many celebrity Dance Choreographers such as G Madison, Markus Shields, Phil Wright who's credits include Mariah Carey, JLO, Camilla Cabello, Kendrick Lamar, Rhianna and may more. She also had the opportunity to dance at the SA Film Festival for the late Patrick Swayze's friends and family at the Beautiful Tobin Center.
On April 2, 2019, Jackleen Rios was inducted into Marquis Who's Who. As in all Marquis Who's Who biographical volumes, individuals profiled are selected on the basis of current reference value. Factors such as position, noteworthy accomplishments, visibility, and prominence in a field are all taken into account during the selection process.
Although Ms. Rios is involved with many activities her main passion is teaching. The Jewel of Art Dance Studio has always been a dream of hers since she was a child. She has finally been able to reach the start and fulfill her lifelong dream of creating an environment for students to be able to find their passion and reach their dreams. The Jewel of Art Dance Studio is the stepping stone to create refined and brilliant dancers on and off the dance floor. Her goal is to ensure each dancer embodies dedication, commitment, artistry and passion. Ms. Rios considered the students to be her jewels and just as jewels shine with brilliance so will her students.
Priscilla Martinez
Ballet
Having taught dance for over 25 years, Priscilla specializes in classical ballet and lyrical contemporary dance.  She is inspired by the talent of the dance community and her students every day. In her classroom, she brings her passion for dance and for teaching young people while sharing her knowledge and experience. She strives to encourage her students to explore the possibility of their talents and push beyond what they think is achievable within themselves as performers, athletes, and artists.
In her choreography, she invites her students to bring their thoughts and personalities to the piece to deepen the level of silent dialogue a dancer has with the audience. Through movement and emotional interpretation of the music, her choreography is rooted in pop-culture using classical and modern music. Using a current message, she's able to produce a stimulating dance-art conversation with her audiences that transcends all ages.
Priscilla Martinez began her career as a dancer studying in San Antonio, and later in Boston & New York with some of her memorable teachers being Milton Myers (modern), Michael Vernon (ballet), Elena Kunikova (ballet), Armando Duarte (modern), Danny Sloan (modern/jazz), Sam Kurjikian (ballet), Fleming Halby (ballet), Teresa Champion (flamenco), and Susan Connally (ballet/jazz/modern).
In addition to her studies in New York, she added Theatre to her stage experience. There she performed in musicals and straight plays as well as numerous national commercials, voice-overs and print ads. She has performed extensively with various dance companies, including SA Dance Theatre, now known as SA Metropolitan Ballet.
She has also choreographed award winning concert pieces. Fragil and Signs of Life were both performed at Regional Dance America's Southwest Festival and both received the Monticello Award for Emerging Choreography, and Out of Chaos, also performed at Festival, received the Project Tier Award. She has attended several National Craft of Choreography Conferences to further her work in choreography
Cynthia Frias
Advanced Modern
Born and raised in the city of San Antonio, Texas. Since the moment Cynthia could walk, dancing was in the picture. She graduated from the prestigious Oklahoma City University's Ann Lacy School of Dance and Entertainment where she received her Bachelors of Performing Arts in Dance Performance and minor in Spanish on May 2017. At OCU, she had the pleasure of studying under many reputable professors and performing as a company member for the American Spirit Dance Company.

Outside of her university performing opportunities, Cynthia has also had the pleasure of being cast as a dancer for several different productions which include the following: Texas! The Outdoor Musical, Sea World's Bay of play, Howl O' Scream, Christmas Celebration and a dancer/model for New Braunfel's Wedding Guide commercial of "When Style & Dance Tie the Knot". Most recently she has completed her 5th performing contract with Disney Cruise Line which included having the opportunity to continue growing in her line captain position and the honor of stepping up as the Character Manager.

Aside from performing, Cynthia loves to teach and share her passion and knowledge of the industry with others in the dance community from the younger generation to those who just want to dance as an outlet.
Ashley Jennings
Beg Modern/ Combo I-II
Ms. Ashley has over 10+ years of dancing experience. She recently graduated from Theodore Roosevelt High School where she was on the Patriot Varsity Dance Team for 3 years. She was awarded Best Technique for her last 2 years and Best Overall Dancer for her final year. She is currently attending Northwest Vista College as a dance major where she is a part of the Student Dance Company and is a student choreographer. She is currently employed at Jewel of Art Dance Studio and so excited to be teaching all the future Jewels.
Sabrina Rendon
Dance Team Prep/ Mommy and Me/Heels
Sabrina Rendón, a 23 year-old San Antonio native, has been dancing for 9 years and has trained in ballet, jazz, contemporary, hip hop, heels, and yoga. Sabrina joined the Taft Highstepper Dance Team as a sophomore and became Lieutenant Colonel of her team during her senior year. While on the team Sabrina had the opportunity to attend classes at the Broadway Dance Center in New York City and the Joffrey Ballet School, and also participated in competitions that earned her team National Championships with HTEDance and Crowdpleasers Dance. Examples of awards that she earned include the "Elite Performer" Award from Crowdpleasers, being selected for the Dance Company and Kick Company of HTEDance, as well as earning the title of National Miss High Kick at the HTEDance National Competition out of 90 competitors. Through the Taft Spirit Organization, her awards also include earning "Best Kicks" for two years in a row. Her teaching experience includes teaching with KinderDance of Alamo City where she provided on-site classes for students in jazz, ballet, and tap at local elementary schools and daycares. She continued dancing and choreographing with the Northwest Vista College Dance Program and performed on a collegiate dance team for two years with the UTSA Pom Squad. In the heels genre she has taken master classes with professional choreographers such as Yanis Marshall and Nicole Kirkland. Sabrina utilizes dance as a creative outlet and hopes to inspire others to reach their full potential and reach whatever goals they set their mind to.
Coach John
Tumbling
John Sierra is an experienced and energetic teacher since 1970. He has been a gymnastic instructor and coach for the Northern Hills Gymnastics Club, YMCA, Gymex Corporation, Edgewood ISD, Harrison Unlimited Gymnastics Center, and SA Gymnastics Center. In 1985, he coach Girls Class IV gymnastics team that won first in the Texas Twisters competition and a gymnastic student who won first place in all around competition in the U.S.G.F Class IV Qualifier District Championship and third place in State Semi-Finals.  He is  knowledgeable in both cheer and gymnastics competitions as well as holding numerous Gymnastics clinics and workshops.
Tone Plata
Advanced Hip Hop/ Advanced Adult Hip Hop
Francisco Antonio Plata, also known as Tone, is a Choreographer, Well rounded dancer, Tumbling, and Motivator. He first started his career as a street performer/Bboy for years. At the age of 14 he also joined a company called Venom and was co-coach/co-choreographer and leader for 4 years. He has worked with several entertainment companies such as (Upscale Talent and Productions, Real Talent Agency, Aabcd dance company, Artisan Oddities Entertainment, DFNTLY Entertainment) and taught at several dance studios like Katz dance studio, Venom company, TJ dance factory, Chrissy's Dance Academy, Barbera & Tammys, Smash Studio, KE Dance Center, HD2 Dance Studio, At The Studio, Adrenaline Dance Studio, Texas Cheer & Dance, Jewel Of Art Dance Studio). Tone has worked with artists such as Chadd Black, Ugena, Gabby Annalyse, Mollie Blanco, Storhe, Kay Watson, Miss LuLu Q, Simply Rayne, and Ngeniuss. He is currently providing professional services for competitions, performances, videos, privates, workshops, shows, and all types of entertainment. Tone has done plenty of gigs such as dance flash-mobs, sheetz company, 13 floor for dancing, quinces, and music videos. Tone went to star bound competition for a solo in Austin for his first choreography he made and got 1st Place, Highest Score out of 40 competitors, and Judges award. Before and after as a soloist or competing in groups, he has won other competitions and got 1st place at StarBound, Bravo, Fun Dance, San Antonio Hip Hop Fest/Celebrity Team Dance Off and competed in World Of Dance. He has received great recognition from very well known dancers and choreographers in Los Angles.  Especially getting great feed back from one of his biggest inspirational members from Jabbawockeez. He continues to grow his careers while continuing to inspire others with his passion, motivation, knowledge, and helping people grow while having a good time.
Tori Saldana
Beg Adult Hip Hop
Tori Saldana born and raised in San Antonio, Texas has been dancing for 17 years, since the age of 3. Starting out at Barbara and Tammys School of Dance, TJ's Dance Factory, Chrissy's Dance Academy, and finally settling at Earle Cobb Dance Studio from age 6-18. She is trained in ballet, tap, jazz, hip hop, contemporary/ modern, and lyrical. Tori graduated in 2020 from North East School of The Arts as a dance major and performed in many shows such as Steppin' Into the Holidays, Footnotes, Newsies, Mamma Mia, and more. She is currently at UTSA majoring is Medical Humanities/ Pre- med. Tori continues to persue dance and hopes to dance professionally one day.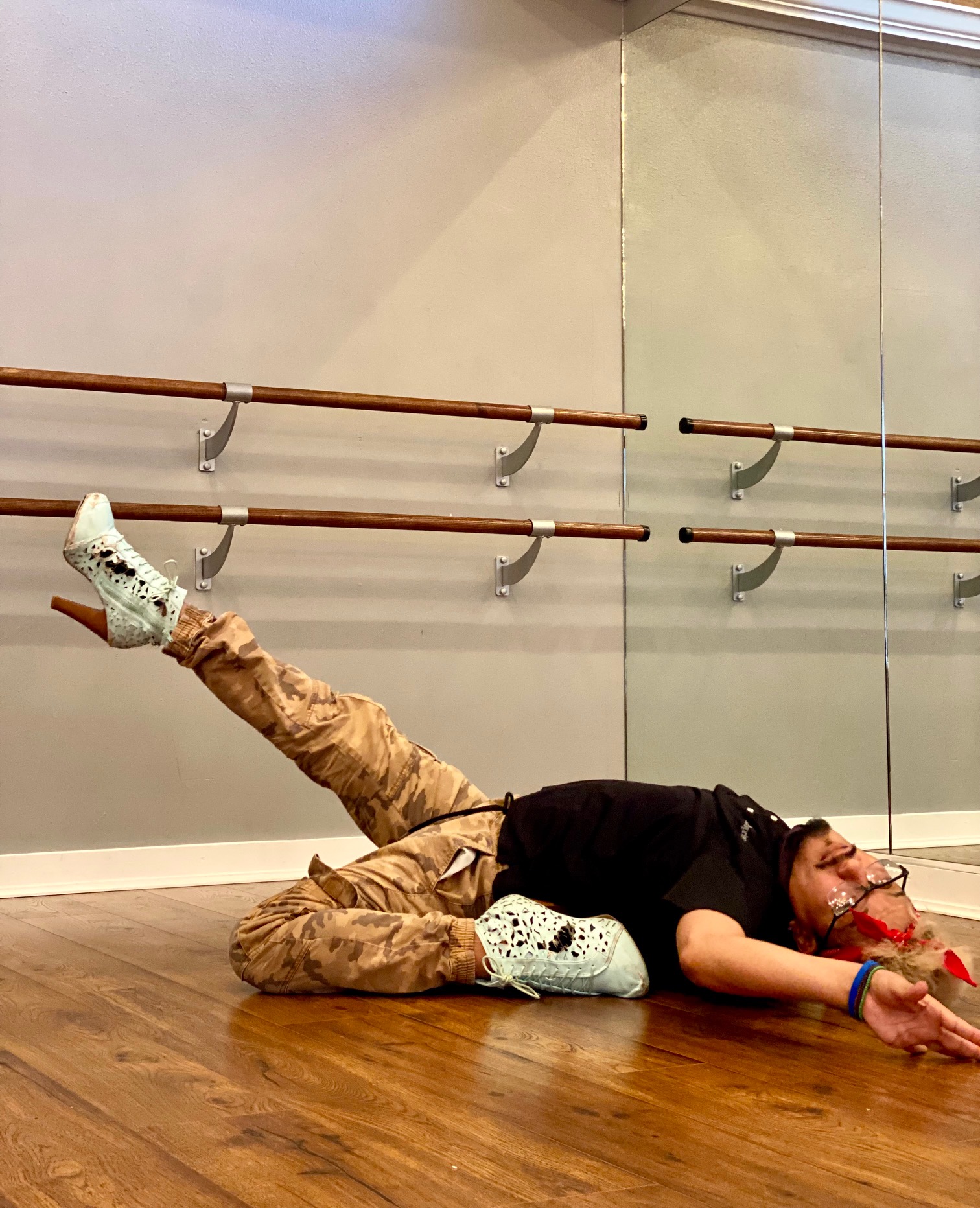 Juan Garcia
Vogue Heels
Juan was born in Laredo, Texas, raised in San Antonio and lived in Southeast Texas (The Golden Triangle) where he graduated in 2002. Went to college until 2005 and decided to move back to San Antonio to be with family. He started his dance life late, but quickly flourished as his passion for dance arose.
  He started to study dance at SAC (San Antonio College) studying Ballet, Jazz, Tap, and Modern. At the same time found the Art of Vogue. He knew at that moment he had a different vibe when dancing vogue. He quickly fell in love with Vogue and then began his true dance journey.
  He studied the Art of Vogue and learned all the different elements and energy to the Art of Vogue which are Catwalk, Duckwalk, Hands, Spin & Dip, Floor Performance. There is also Old Way (The Original Form of Vogue), New Way (flexibility) and Vogue Fem. Juan has been studying Vogue Fem for over 15 years now. He has performed all over San Antonio at local events and bars showcasing his love for the art. As well as winning Beauty pageants as a back up performer.
  He now has the pleasure to be able to share his knowledge with his students and spark the world of Voguing to SA.