The Jewel Of Art Dance Studio
Celebrity Choreographer G Madison!
Saturday January 26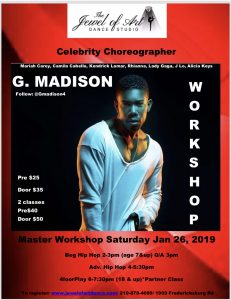 Celebrity Choreographer that has worked with Mariah Carey, JLO, Kendrick Lamar, Taraji Henson, Rhianna, and may more!
Last Workshop we reached capacity and had to turn people away. Do not wait until the last minute for this amazing opportunity! You may register online or in person. All Credit Card transactions will have a 3% charge. See everyone then!!!
A Jewel is considered to be a precious stone with brilliance and value.
The Jewel of Art Dance Studio is the stepping stone to producing refined and brilliant dancers. The Jewel of Art is committed to creating a strong foundation in all genres of dance. We are dedicated to developing well rounded and exceptional dancers.
We challenge our students to achieve excellence, and expect each one to embody discipline, confidence, commitment, dedication, artistry and passion. The students are considered our jewels at The Jewel of Art Dance Studio and just like jewels shine with brilliance, so will our students.
Learn A New Style of Dance
Browse our classes below. If one catches your attention, please contact us for more information or to register.
Our Blog
We post everything from studio announcements to student and studio achievements, as well as interesting reads from around the web and our community. Check back regularly for news and studio information.